WebSite Grader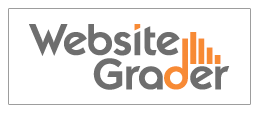 Overview
Want to know how your site ranks on the web? And how effective it is compared to your competitors'? Website Grader allows you to find out--for free! Enter your URL and some keywords into this simple tool and out comes your Google page rank, an in-depth analysis of your web page structure, your number of Del.icio.us bookmarks and more! Add WebSite Grader to your account for free.

Features And Benefits
WebSite Grader not only grades different aspects of your website in relation to those of similar sites on the web--it also explains what each grade means and provides you recommendations on how to improve! Get comprehensive feedback--and solutions--for these important benchmarks:
Google page rank
Alexa rank (measures the approximate traffic)
Google and Yahoo! inbound links
Del.icio.us saved bookmarks
Text readability level
Search rankings for keywords
And much more!
How It Works
Simply enter your website URL, keywords related to your site, any competitor sites (optional) and your e-mail address--and your report will be generated within minutes. Plus, Website Grader will even e-mail you a copy of your results!
Getting Started
Add Website Grader to your tools for free by selecting the link below.